Bath time: natural, organic products that are gentle on children's skin
It's no secret that bath time is extremely beneficial for children, especially for babies. Not only is it a great way to get your little one super clean, but it's also a fantastic time for their development.
Some benefits of splashing your kids into the tub:
First of all, bath time is a marvelous way to have quality time with your kid. No phones are allowed near the water, this way you can

focus only on your child

. 

Talking during baths can encourage language development. Try explaining each thing you do while you're doing it. This way your child can begin to

understand concepts

and soon they will predict what's next.

Bath toys, water, and bubbles provide a very special experience when it comes to playing. Try incorporating sponges or squeeze toys that will help your little one

develop motor skills

.
Bath time is also a good way to teach kids about

self-care

. Here is where our natural baby care products come in… 
The importance of natural, organic products for bath time
Here at DermaMed, we pride ourselves on offering products that are made with only natural ingredients. As one of Canada's leading manufacturers of natural products, we have certified organic ingredients that support our advanced botanical research, quality guidelines, and innovative formulas. 
Your newborn's skin is very delicate. It is softer and thinner than adult skin, so it can become dry and irritated. That is why shampoos and bath gels with natural extracts are the best options to balance the pH, hydrate it, and restore your baby's skin barrier.
We also recommend that bath time last between 5 and 10 minutes, 2 to 3 times a week, use a soft cloth or a sponge.
And because we know bath time is such an intimate time for your family, we developed products that will make this experience even more special.
Bath time baby products that you have to try
Baby Mild Shampoo:

this is our all-around product for the shower and also the tub. It's hypoallergenic and it cleans your kid's hair and scalp, with plant-based ingredients that don't irritate their eyes. You will love the smell and feel of Aloe Vera and Calendula on your baby.

Baby Gentle Body Wash:

made with Calendula, Chamomile, and Green Tea Extracts, this product cleanses your baby's skin and hair. Its soothing herbal blend helps calm children during baths while leaving their skin smooth and healthy.
Get your baby only the best when it comes to bath time. Choose natural, choose Dermamed. Get these products here.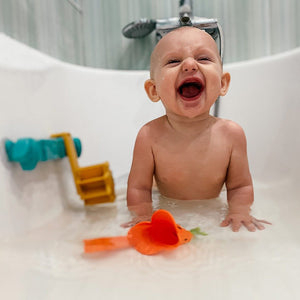 Leave a comment
Comments will be approved before showing up.